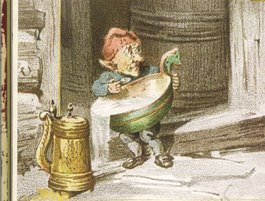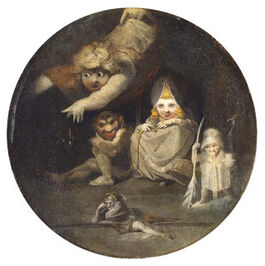 Hob
Books Appear In / Mentioned In
Edit
Description (Defined)
Edit
Hobs are strictly domestic spirits, and they tend to attach themselves to single households for generations, often raising their children to join them. [1]
Details About
Edit
Type of Faerie or Connection
Edit
land fae
They are similar to a Brownie. 
Abilities, Skills, Powers
Edit
Characteristics / Nature
Edit
No one keeps a house cleaner than a Hob, and there's never any dust on the liquor cabinet. [2]
Habitat / Knowe
Edit
Physical Description
Edit
Other Details
Edit
Characters
Edit
Hob in Mythology
Edit
Like the Brownie, the Hob is a household fairy that helps with chores around the house. The hob in particular, looks after the health of children. He is especially good in curing a child's cough. He is naked and has long hair. If you give it clothes, it will be offended and leave the service of your house. ~ Hob ~ Myth Beasts
Book Chapter References
Edit
↑ Rosemary and Rue, ch. 13
↑ A Local Habitation, ch. 1
See Also
Edit
External References
Edit
Content Refs:
Ad blocker interference detected!
Wikia is a free-to-use site that makes money from advertising. We have a modified experience for viewers using ad blockers

Wikia is not accessible if you've made further modifications. Remove the custom ad blocker rule(s) and the page will load as expected.