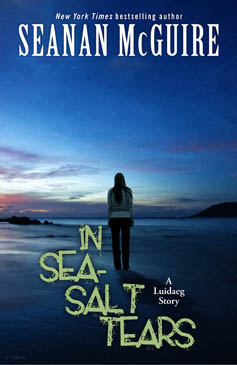 In Sea-Salt Tears is a short story published on Seanan McGuire's website. It has not been collected in print.
Author's Summary
Edit
It was 1972, and a teenage girl named Elizabeth Ryan thought her world was coming to an end. The daughter of two Selkies, Elizabeth had just been passed up for a skin. But when a mysterious cousin who calls herself Annie appears, Elizabeth finds other things to think about...
It can be easy to forget that worlds don't wait for heroes before they begin. It can be easy to forget that things happened before the lights came up and the story started. This is one of those things that happened: this is one of those tales that slipped through the cracks. It is the story of a girl named Elizabeth, and a girl named Annie, and what they were to one another, in the sight and sounding of the sea.
Maybe it isn't fair. But fairy tales never really are.
Suggested Reading Order
Edit
"In Sea-Salt Tears" is best read after One Salt Sea. It does not contain direct spoilers, but it will have the most emotional impact if you have already read through book five in the main series.
Characters
Edit
See also
Edit
External References
Edit
Ad blocker interference detected!
Wikia is a free-to-use site that makes money from advertising. We have a modified experience for viewers using ad blockers

Wikia is not accessible if you've made further modifications. Remove the custom ad blocker rule(s) and the page will load as expected.