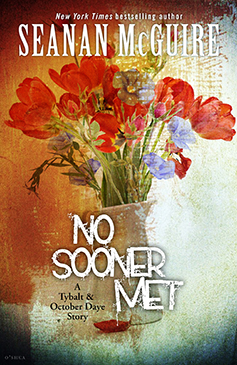 No Sooner Met is a short story published on Seanan McGuire's website. It has not been collected in print.
Author's Summary
Edit
It may have taken them years to reach the point of admitting that there was a mutual attraction between them, but now that they have, it's time for October Daye and Tybalt to begin exploring their relationship, such as it is, and deciding what it is going to mean for them going forward. But when an old-fashioned pureblood and a modern changeling decide to court, what form can that courtship possibly take?
It's time for a first date, a first romantic encounter, and a first assassination attempt. Just the usual assortment of complications for a man, a woman, and the complicated world between them. And of course, it doesn't help that the man is a King of Cats, and has his own share of demons to bring to the table...
Suggested Reading Order
Edit
"No Sooner Met" is best read after Ashes of Honor, and contains spoilers for the series up through book six.
Characters
Edit
See also
Edit
External References
Edit
Ad blocker interference detected!
Wikia is a free-to-use site that makes money from advertising. We have a modified experience for viewers using ad blockers

Wikia is not accessible if you've made further modifications. Remove the custom ad blocker rule(s) and the page will load as expected.